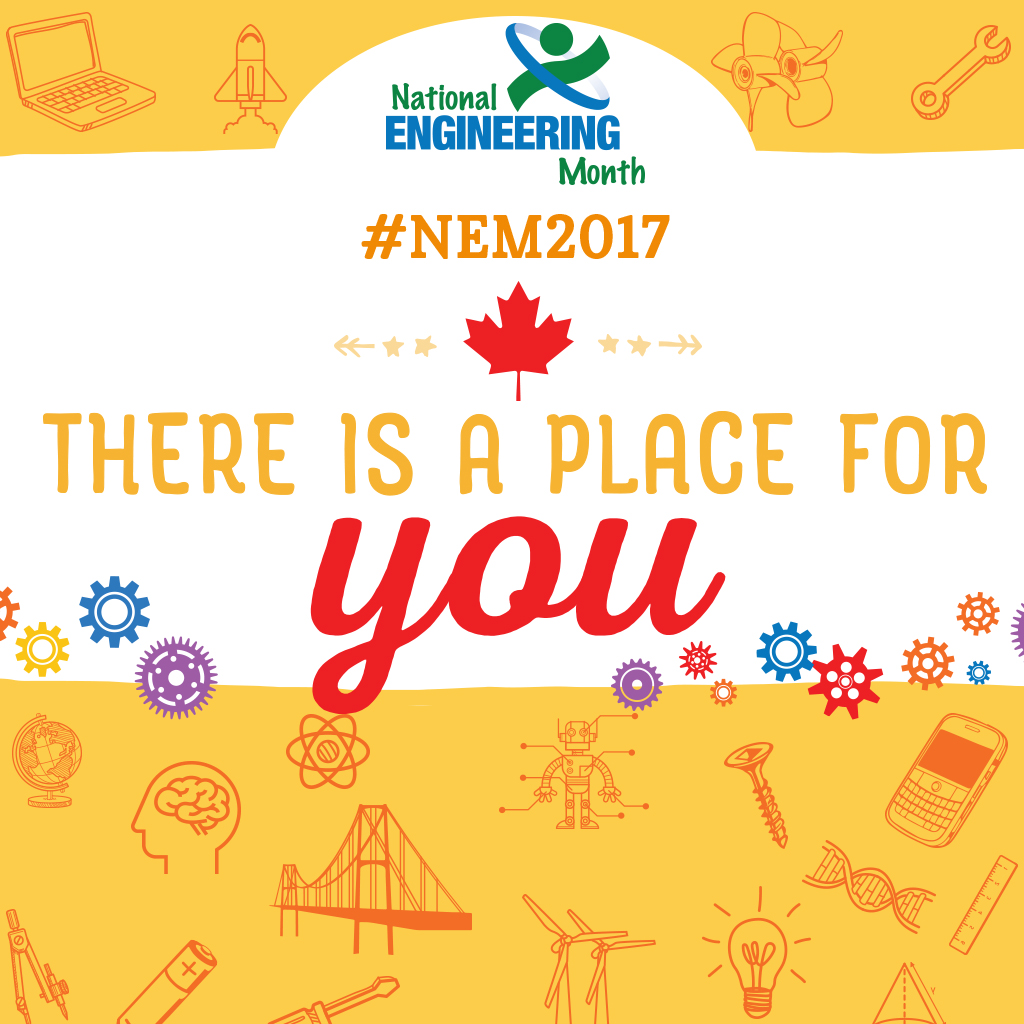 It's my favourite month of the year, and it's not even my birthday!!! March is National Engineering Month in Canada (check out http://www.nem-mng.ca/)  when engineering professionals nationwide reach out to young Canadians to help them learn about career options in engineering.
What is an engineer?
As defined in the Professional Engineers Act, professional engineering is:
Any act of planning, designing, composing, evaluating, advising, reporting, directing or supervising (or the managing of any such act);
That requires the application of engineering principles; and
Concerns the safeguarding of life, health, property, economic interests, the public welfare or the environment, or the managing of any such act.
What does this really mean?
Well, the first two parts are easy. Engineering principles are basically just a fancy way of saying that engineers use scientific principles and apply them to design solutions to a problem. The last part is about duty to the public. Yes, you heard that right. As a Professional Engineer, you have to act in ways that safeguard and protect the best interests of the public. That can be a super big deal if your company wants one thing, and the best interest for the public is different!
What does this look like in real life?
I went to school for chemical engineering (transforming matter into products we use every day), but my current job is more of an industrial or manufacturing engineering role – this means I work to make manufacturing processes efficient from beginning to end.
On any given day, I could be working on:
Developing spreadsheets to track our performance (How much product are we making day-to-day? How are we performing when we change products? Every time we produce a certain product, are we running faster or slower than last time?)
Running trials to evaluate our production line's ability to run new products
Proposing improvements to make current products run faster, with less "downtime", or with less waste
However, I like to look at it as solving problems. Everything I do is to solve some problem, and the solutions I develop utilize all the math and science skills I've gained from school and past work.
What about you?
What problem would you solve if you were an engineer?
Leave your ideas in the comments.
Better yet, try this quiz presented by Engineers Canada: http://www.nem-mng.ca/chart-your-course