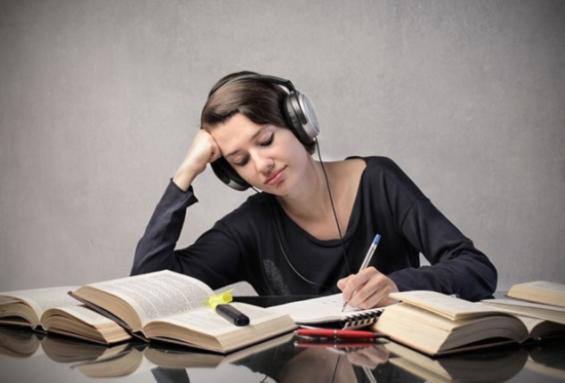 Need to spice up your studying? Who doesn't. We're not normally a fan of distractions, but music can actually help you get into the study groove...IF you choose the right song. Try listening to music! Although listening to music can be extremely beneficial to some, for others it proves to be quite the distraction. If you want to experiment, we've got a few songs that might float your study boat. Check 'em! 1. Skinny Love, Bon Iver
Whether you're having a freak-out about schoolwork and need to calm down or you're simply looking to chill out while studying, Bon Iver's Skinny Love is the perfect song to add to your study playlist. Soft and whimsical Indie folk, Skinny Love is a TMG favourite.
[embed]http://https://www.youtube.com/watch?v=ssdgFoHLwnk[/embed]
2. Four Seasons, Vivaldi
Vivaldi's Four Seasons is a CLASSIC. Get it? It's old-school classical music. Ready to put you in the study zone, this lyricless masterpiece will help you crank up your concentration.
[embed]https://www.youtube.com/watch?v=GRxofEmo3HA[/embed]
3. Starboy, The Weekend
Need a bit of encouragement while you study? A little pep talk maybe? Get a pump-up pep talk from The Weekend by listening to the smash-hit Starboy. Worried you might get distracted by The Weekend's lyrics? Don't worry, you can barely understand what they are so you'll most likely be paying attention to the background beat.
[embed]https://www.youtube.com/watch?v=34Na4j8AVgA[/embed]
4. Closer, The Chainsmokers
The light and airy beat of The Chainsmoker's Closer will make you want to shimmy in your seat while studying. If you're looking to make studying fun, The Chainsmoker's Closer is one that will totally give you good vibes while hitting the books.
[embed]https://www.youtube.com/watch?v=PT2_F-1esPk[/embed]
5. Let it Go, James Bay
James Bay's beautifully smooth voice will make you want to listen to this song on repeat. Feeling like getting a little cozy with your math textbook? This song is DEFINITELY the song to do that to!
[embed]https://www.youtube.com/watch?v=GsPq9mzFNGY[/embed]
Now it's time to download these songs (legally, please), grab your headphones and hit the books! Good luck everyone!